SSL China 2016: Nobel Laureate Shuji Nakamura Upbeat about Outlook of Micro-LED, Laser Lighting, LiFi Technologies
2016-12-06
The 13th China International Forum on Solid State Lighting (SSLCHINA 2016) and 3th International Forum on Wide Bandgap Semiconductors China(IFWS)were held in Beijing International Convention Center from November 15 to 18, 2016. The forums and conferences realized China's 13th Five- Year Plan by providing strategic highlights of electronic material projects. LEDinside has summarized talks of professionals and experts in each area, including Micro LED, Laser lighting, VCSEL, Li-Fi Communication, smart lighitng and well-being lighting. [Micro LED]The Nobel Prize Laureate and Professor at the Materials Department of the College of Engineering, University of California, Santa Barbara (UCSB), Shuji Nakamura professor mentioned three key development trends in LED industry, including Micro LED, laser lighting and Li-Fi technology. In comparison to OLED, Micro LED does not require filters and polarizer while providing better brightness and superior energy efficiency with longer life time. Among all display applications, Pixel size is one of key indicators. For instance, the lateral dimensions of a 300-600 DPI display screen is approximately 10µm; the higher DPI of the display screen, say 1000 DPI and above, requires smaller lateral dimensions. However, two fundamental and crucial challenges are confronting Micro LED technology. First, the size of LED chip impacts on external quamtum efficiency (EQE). The ultra-small chip size of Micro LED means tiny current spreading area and extremely high current density. Second, the sourcing technology, as well as picking and transfer technology of Micro LEDs.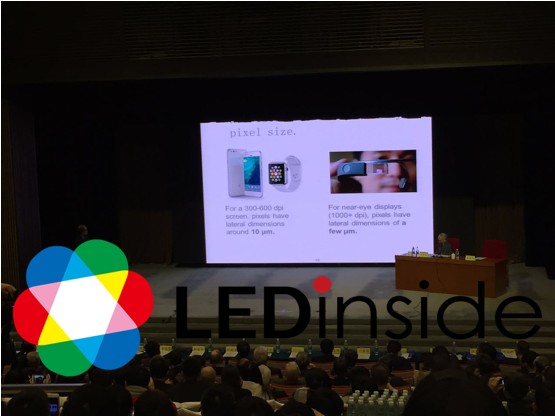 [Laser Lighting]The stronger the current density (KA/cm2) is, the better the External Quantum Efficiency (EQE) is. Laser lighting is being widely used in projectors, micro projectors, laser TV at 100" and above, laser automotive headlights, said Shuji Nakamura professor. In comparison to LED headlights with full beam at 300 meters, laser headlights double the distance at 600 meters.
[Li-Fi]In comparison to Wi- Fi, Li- Fi communication that adopts LED or laser technologies have better transmission capacity. In view of LED technology, compared to the phosphor generated white light, Micro LED and RGB laser are equipped with better light transmission capacity. Adding wireless communication and hand-held applications to lighting, say applications of smartphones, could open unlimited development. It's projected that the market value of Li-Fi and visible light communication are to reach US $115 billion by 2022.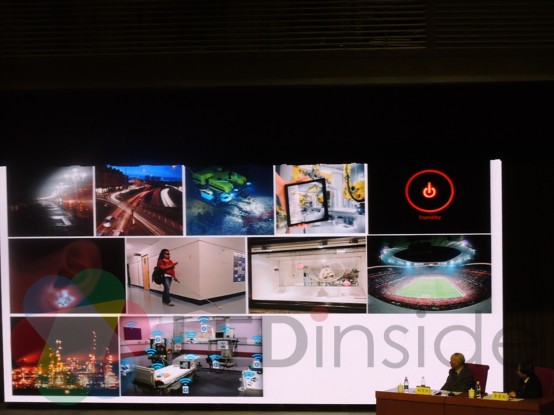 [Vertical-Cavity Surface-Emitting Laser (VCSEL)] Following car makers' active development of Advanced Driver Assistance Systems (ADAS), it's projected that European and American countries will be utilizing the smart system in between 2030-2035. By then Vertical-Cavity Surface-Emitting Laser (VCSEL) is to become mainstream sensor method. Meanwhile the demand in Datacom market also accelerates production capacity expansion of VCSEL manufacturers. Main VCSEL manufacturers include Osram, Finisar, JDSU, Philips Photonics, Rohm, Lumentum and HLJ Technology. Author: Joanne, LEDinside LEDinside 2017 Micro LED Next Generation Display Industry Member Report Four Major Topics
Micro LED Market Development Trend

Micro LED Technology Development Trend

Micro LED Application Development Trend

Micro LED Supply Chain Development Trend
LEDinside

Content

Characteristics

Format

Frequency

Price

2017 Micro LED Next Generation Display Industry Member Report

Micro LED Industry Outlook and Supply Chain Development

Micro LED and LED Technology Analysis
LED Industry Supply Chain Survey
Micro LED Player Status- Patent and Technology Progress

PDF

Quarterly Update / Annual (January, April, July, October)

USD 6,000

Application:
Micro LED Application Market Trend- LED Display

LED Display Market Status
(Market Scale, Current Technology, Major Players)
Micro LED Display Market Development
(Micro LED Display Technology Analysis, Micro LED Display Application and Future Market Outlook)

Technology:
Micro LED Industry Technology Analysis

Micro LED Transfer Technology
Micro LED Driver IC Solution
Micro LED Display to Realize RGB Solutions

Application:
Micro LED Application Market Trend- Wearable Devices

Micro LED in Wearable Device
(Micro LED Display Technology Analysis, Specifications, Supply Chain Analysis)
Release Date: January / April / July / October
LEDinside Keep the Right to Adjust the Contents, Depending on Industry Development Trend
Format: PDF / ExcelLanguage: Traditional Chinese / English Customized Report / Consulting Service
LEDinside provide customized report and consulting service, please call or email to us.If you would like to know more details, please contact:
Joanne Wu +886-2-8978-6488 ext. 912 joannewu@trendforce.com